About Feet First Coffins
Feet First Coffins is a small family business that came about through making reasonably priced and personalised wooden coffins and caskets for friends and family. We are proud to announce that Feet First Coffins were 2nd place finalists at this years Good Funeral Awards a major recognition for us by our customers and industry peers.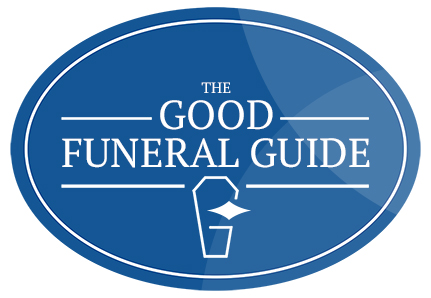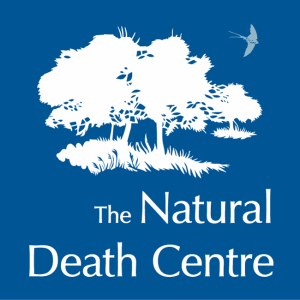 Our Promise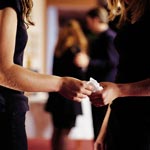 Whether you are considering your own arrangements for the future, or you are trying to choose a suitable coffin for a loved one, we at Feet First Coffins know how important it is that the choice you make is the right one.
If you are organising a funeral for a member of your family, or a much-loved friend, you will want their farewell to be personal to them, yet this does not need to be at an overly expensive cost to you.
Our promise is to provide a service and variety of coffin and casket choices that surpass all the desires and expectations of the bereaved.
Eco-friendly credentials
100% Environmentally Friendly
We adopt an enlightened approach to today's changing attitudes towards conventional practices by offering an alternative to the sometimes-unsatisfactory choices available.
We encourage people to have the coffin they really want and hope that by helping you have the personalised coffin or casket of your choice, we make a difference to you and your family.
People are as individual in death as they are in life and a personalised coffin can pay tribute to the person who has died.
Biodegradable Construction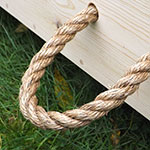 Here at Feet First Coffins we use only solid wood in our construction of all coffins and caskets offered, all are individually handcrafted and designed to return to the earth naturally.
Feet First Coffins and Caskets are constructed using peg and dowels so contain no screws, nails, metal hinges, or heavy chemical based glues, plywood, synthetic materials or other hardware.
Because they are made of solid pine wood and fully biodegradable, they are perfect for eco-friendly natural burials and green cremations. Our coffins and caskets are beautifully Hand crafted from solid pinewood, which is sourced from sustainable forests and lined using 100% non-bleached natural fair-trade cotton with meadow grass hay padding when requested, handles are made from either natural hemp rope or pine handrails.  Any paints used are natural chalk based and waxes used are Natural Beeswax based.
Everything we display may be purchased as you see it here, or you may request modifications. Simply contact us to discuss the details. Also note, all our products are individually handmade and though great care is taken to recreate every piece to match the original, no replica will ever be an exact match.
We try to keep all of our stock items on-hand so we can for fill your requests without delay.  Please keep in mind that if you want specialty or custom pieces this will require production time.
Supply to your funeral
Whether you are arranging the funeral directly or via a Funeral home or undertakers, a Feet First Coffin or casket is always an option, even if we are not listed as a supplier to your current funeral home, we will be able to arrange a direct delivery to them.
Why environmentally friendly coffins are important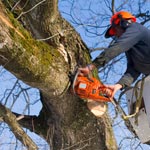 Most people don't realise that of the 600,000 deaths in the U.K per annum 80% of people are either buried or cremated in a CHIPBOARD coffin. These are wood-chips held together with resins and formaldehyde and skinned in a fake veneer, which emit toxins into the earth for over a 100 years when buried or into the air when cremated. Feet First Coffins aims to reduce this; the Eco Coffins take 60% less energy to burn in a cremator with 90% less emissions & solid pinewood coffins are fully & naturally biodegradable.
Devonshire Eco-Casket
Polygon Eco-Casket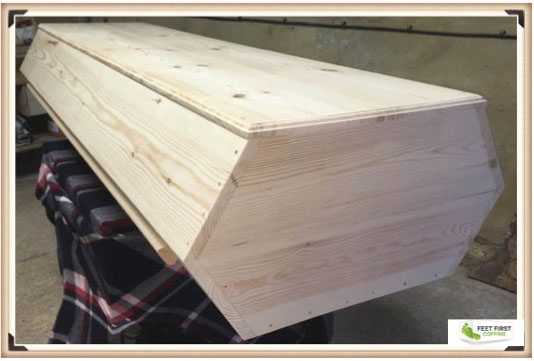 Standard Eco-Casket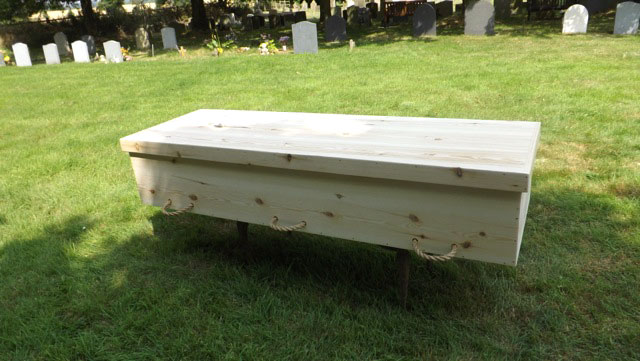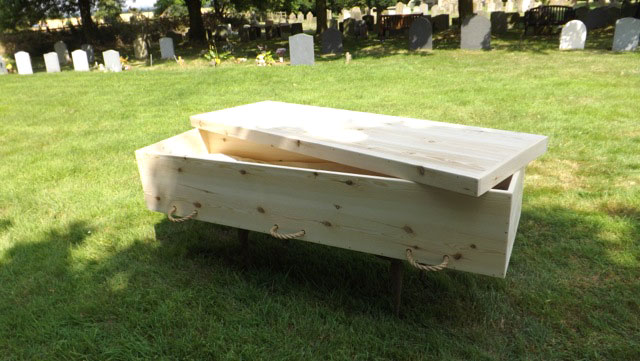 Standard Eco-Traditional Toe-Pinch Coffin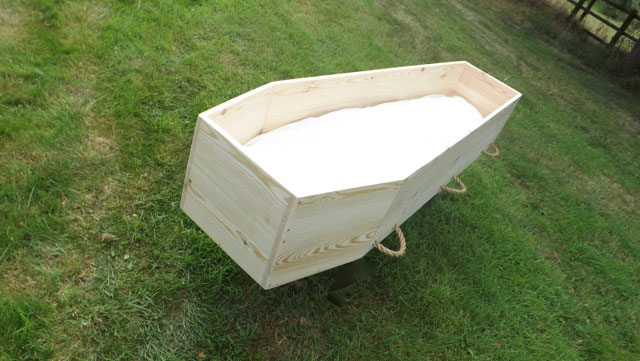 Scandinavian Eco-Casket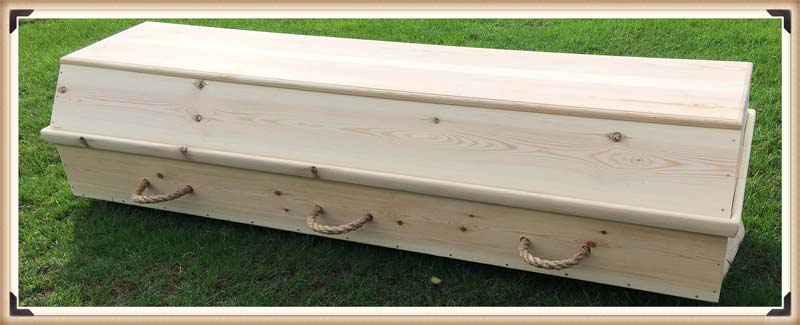 Stepped Rail Eco-Casket
Contact & Address
Contact Feet First Coffins for more information about our eco-friendly coffins or appointments.

Feet First Coffins
11 Rycroft
Furzton
Milton Keynes
MK4 1AH
UK
---
Telephone: +44 7971 600515
---

Testimonials & Feedback
Some of the very kind things people say about Feet First Coffin's products and service.
Hi Paul, Feet First Coffins

I just wanted to say that the casket that you made for my Dad Bryan Spencer was absolutely brilliant. It was even better than I thought it would be. I first saw it when I went to the viewing of my Dad last Wednesday, 6th June 2018. Viewings aren't for everyone of course, but I wanted to do it and much to my surprise my Mum did the viewing too. My Dad looked so peaceful and calm. And lying in your casket made that experience even better. It just looked right somehow.

While I was at the viewing we spoke to the funeral director, Richard Ward of Enderby Leicestershire, and his staff and they all loved the casket. The ladies who work there said they couldn't stop admiring the wood after you'd delivered it. And one of the male staff said he loved it and described it as 'proper wood'. They obviously deal with coffins and caskets every week and they thought it was superb. And my Dad looked so relaxed at the viewing on the lovely hay filled lining that you'd put in. One of our family friends does a lot of work with wood and he was totally impressed with the casket and said it was the best one he'd ever seen. And everyone at the funeral spoke about it afterwards and said how wonderful it was.

Somehow it just gave exactly the feeling I was hoping it would. My Dad was a really special person and he deserved something special for this. Seeing him in your casket at the viewing was actually a calming and comforting experience for my Mum and me. In fact it was the only calm experience we've had since all this happened last month. On the funeral day itself we felt proud having something that was so much better than the usual type of coffins and caskets.

Your website was one of the first things I came across in the days after my Dad's passing. So the thought of having one of your caskets stayed with me through all of this. I'm so glad that we decided to have you do this for my Dad. I wanted to pay proper tribute to him, and you've helped me so much in doing that. I can't thank you enough for that. Your craftsmanship and your attention to detail was superb all the way through. Your kindness and understanding, both on the phone and by email, was very comforting. Everyone loved how you played some of my Dad's favourite music while you were making the casket. Touches like that really made the whole experience feel very special.

Obviously we wish none of this had happened, but having you help us at this time has been so good for us. Anyone who's reading this, and wondering whether you should order from Feet First Coffins, well you definitely won't regret it. Every step of the way from first contact to delivering the casket went perfectly. At such a sad time, you want to know that your loved one will have something that is as special as they were. That's the feeling I had with the casket for my wonderful Dad. I wouldn't hesitate in recommending Feet First Coffins to anyone.

Thank you again for everything Paul. You exceeded all our expectations and helped to bring so much comfort to us.

All our best wishes,
Wayne and Pearl Spencer
Leicester
---
Hi Feet First Coffins,

Yesterday was, as much as any funeral could be, a lovely day. Forsey's brought Tony home at noon, and the first thing everyone said was how superb the coffin was, and the kind of great woodwork Tony would've really appreciated. It looked much bigger than the carefully hand-dug hole – of course it wasn't but these things are really deceptive. With a beautiful and very natural arrangement of ivy, rosemary and snowdrops Nell made to lay on the top of the coffin. It felt right to bring him home and put him in a wonderful spot in our garden in the area he liked best, next to some silver birches (we have about a half-acre garden in a fairly rural location).

Thank you for being so very easy to deal with, very human and very funny – I hadn't expected things like you playing music he liked, and having you create such an important part of this whole event has been different and so much more comforting than I could've imagined.

Thank you again, and whilst I'm hoping not to need to recommend your services to any of my nearest and dearest any time soon, I certainly will when the occasion arises!

With best wishes

Hilary
---
Dear Feet First Coffins,

Thank you so much for the beautiful coffin - the whole family were very pleased to see Alan put to rest in such a beautiful hand crafted work of art.

The undertakers were also impressed both by the coffin and your thoughtful and efficient service.

Kind regards
Jim
---
Thank you and everyone who worked on my Dad John's coffin and delivered it.

It was very beautifully and thoroughly made and honest looking.
When we were in the church with wild flowers and herbs on it, it looked really lovely and it made us all feel a lot better that

Dad was lying on a bed of cotton with meadow hay, and in a lovely clean, fresh coffin. The staff at Frimley hospital and Evelyn said it was the nicest coffin they had ever seen.

This made such a difference to the funeral and we all felt, as we sang our hearts out, that a very special man had had a very special funeral.

Thank you so much.

With very best wishes,
Jill and family
---
Dear Paul and Feet First,

Thank you for the excellent service you provided at very short notice. I very much appreciate the amount of work and the long hours you put in to get the casket ready in time, knowing that I really wanted something for my partner which was hand-made, environmentally-friendly and not run-of-the-mill.

The result was something which truly reflected his love of wood and beautiful craftsmanship. Many people at the funeral service commented on how lovely it was and that they were much more comfortable in its presence than they would have been with a conventional coffin. I think this was because of the warm, homely, natural materials and because they could relate to the way it had been made. We even had to remind people not to lean on it during their speeches it was so integral to the service!

I also found you a pleasure to deal with - always available at the end of the phone, not too serious and genuinely keen to meet my needs. Together you, and my funeral director (Moss Funerals of Glossop) eased me through the most difficult and painful time and helped provide an event which was unique and exactly what I wanted.

With very best wishes

Carol (Greater Manchester)
---
Feet First Coffins,
I really wanted to reply to thank you for the amazing service you provided. At one of the most difficult times of my life, the incredible level of care that I felt was behind your business, was such a huge relief to my family and I.

I can't tell you what a source of comfort it was knowing that such attention to detail had be applied to the craftsmanship of my Dad's coffin — you never met him but I can assure you he shared the same passion and enjoyment for working with traditional woodwork tools and that it sounds like is behind your business.

It would have been very easy to just have let our funeral director handle this side of things, as venturing into organising that side of matters yourself can seem quite scary when you've never had to do anything like that before.

However we knew what the funeral director was offering us in a package just didn't feel right for our Dad, so after making first enquires with Feet First I did feel that you handled the process with real sensitivity and went out of your way to meet all of our requests at very short notice.

The end result was beautifully and expertly crafted, and just what we think my Dad would have wanted. Thank you again for this, and I do hope that many more people in a similar position will discover your website.

Please don't hesitate to ask if you need anything else to assist with your feedback or marketing, I'd be happy to help.

All the best,

Ally (& family, Abergavenny)
Woodland Wishes offer simple and bespoke 'green' funerals in beautiful woodland burial sites using British 'earth friendly' coffins. As well as offering as much or as little personal guidance as you need without the fuss and unwanted expense of traditional mainstream funerals.
They are a small, honest, ethical and independent company, passionate about helping you get what you want and need.
Providing a down-to-earth, practical and highly professional service when faced with arranging a funeral. Woodland Wishes can also give advice on and conduct 'simple' cremations as well as offering a personal collection of ashes service for scattering, burial or other at request.
Feet First Coffins are supporters of Willen Hospice.